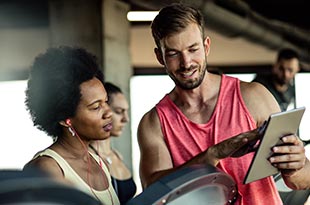 The University of Florida's online Master of Science in Applied Physiology and Kinesiology is a rigorous program taught by exceptional faculty at one of the top universities in the world. The human performance concentration focuses on how exercise physiology, athletic-injury prevention, biomechanics, motor control, and sport psychology can improve people's lives and maximize athletic performance.
A Science-Based Approach
Our applied master's in kinesiology and physiology emphasizes an empirical approach. We see the body as a fascinating machine, and we teach our students how to use evidence-based practices to fine-tune and fix it. You will learn how to interpret and apply the latest research and use science to solve real-world problems.
---
A Master's You Can Use
We welcome working professionals as well as recent graduates. No matter your background, we will help you to expand your knowledge and elevate your ability to improve the lives of others.
Over the course of 30 credits, you'll use theory-backed concepts to: design and perform assessments, collect and interpret data, evaluate outcomes, and create effective interventions and training plans.
You'll also build your professional skills through interactive sessions with instructors and fellow students. An optional graduate internship offers up to 9 credit hours of on-site experience, no matter where in the world you live.
Specialized for You
At the University of Florida, we pride ourselves on our dedication to student success and an individualized approach. Because of this, we offer two opportunities for students to specialize their skills with concentrations in Athlete Development or Integrative Strength and Conditioning Science.
Through the Athlete Development specialization, professionals gain vital knowledge into how to successfully manage athletes throughout their career. This includes media relations, mental and emotional health, and financial literacy. Alternatively, the Integrative Strength and Conditioning Science concentration is designed for APK professionals that are interested in developing training programs and focusing on an athlete's physical health. Get the individualized education you need to reach your specific career goals.
Many of our graduates pursue additional certification for roles such as:
ACSM Certified Exercise Physiologist®
ACSM Certified Group Exercise Instructor®
ACSM Certified Personal Trainer®
Certified Strength and Conditioning Specialist®
Certified Mental Performance Consultant®
---
A Degree on Your Own Time
This 100% online master's degree can be completed in as little as a 1 year (full time) or 1.5 years (part time). No GRE is required. We offer dozens of courses, in areas such as:
Exercise Physiology
Biomechanics
Sport Psychology
Sport Nutrition
Strength and Conditioning
Corrective Exercise and Training
Performance Enhancement
Research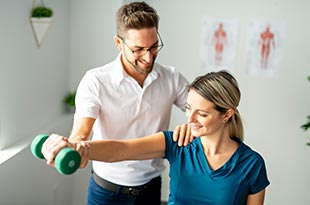 The Department of Applied Physiology and Kinesiology is dedicated to improving quality of life through a better understanding and application of human movement. We are one of the best kinesiology master's programs in the country, ranked #4 by the National Academy of Kinesiology and #1 best online master's in exercise science degrees by Guide to Online Schools.
Ambitious Instruction For a Fulfilling Career
We pride ourselves on our community of dedicated, award-winning instructors—many are even former UF students themselves. Our faculty challenge their students to expand their thinking and to truly know—not just memorize—the material. We endeavor to make the masters in kinesiology online experience just as inviting as in-person classes, including flexible video office hours and one-on-one feedback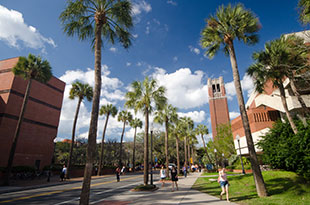 The mission of the University of Florida, founded more than 160 years ago, is to enable its students to lead and influence the next generation. With our land, sea, and space grants, we have been entrusted with the responsibilities of education, research, scholarship, and service.
It's a Great Time to Be a Gator
The University of Florida is a top-ranked, R1 university. As the eighth largest single-campus university in the United States, you'll be joining a powerful community.
University of Florida Awards and Rankings
U.S. News & World Report
#5 top Public Universities
#28 National Universities
#10 Best Colleges for Veterans
#29 Most Innovative Schools
#2 Best Online Graduate Education Programs
Washington Monthly
#15 National Universities
University Value Rankings
#2 Best Values in Public Colleges–Kiplinger's
#3 Best Buy Colleges: Public–Fiske Guide to Colleges
#16 Best Colleges for Your Money, Money
#20 America's Best Value Colleges–Forbes
2020 Princeton Review Best Value Colleges list
We are a people of purpose who are committed to improving lives. If you're ready to become a Gator, contact us today.