How to Become an Exercise Physiologist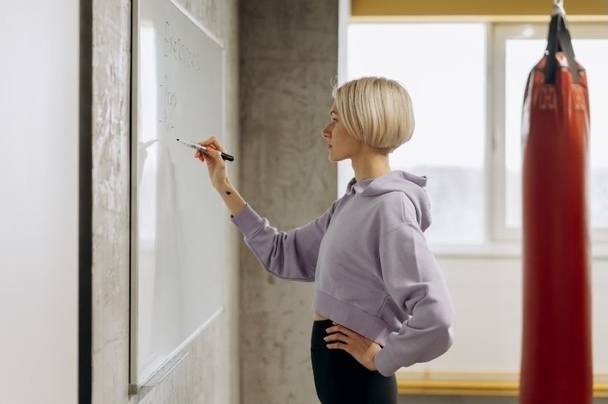 If you have an interest in sports and have an aptitude for body mechanics and kinesiology, a career as an exercise physiologist may be the right fit for you. Exercise physiologists help patients improve their fitness level, recover after an injury or illness by planning and implementing programs that are designed to improve strength, flexibility, and body composition.
Exercise physiology is also a career with significant growth potential. According to Burning Glass, the projected job growth for exercise physiologists is 13.2% over the next 10 years, and the median salary for exercise physiologists is $45,270 (information taken from September 2019 to August 2020). In addition, exercise physiologists, coaches, and trainers who have a master's degree in exercise physiology earn a mean salary that is 11% higher than those who have a bachelor's degree.
Read on to find out how to become an exercise physiologist, and learn about exercise physiology qualifications, including training, education requirements, and certifications.
---
How to Become an Exercise Physiologist
Exercise Physiologist Education Requirements
Most exercise physiologists have at least a bachelor's degree. The type of degree can vary, but the coursework that they complete often includes kinesiology, anatomy, biology, kinesiology, and nutrition.
Master's degrees are sometimes required for certification, and education requirements may also increase in the future. For example, Louisiana requires a master's degree to become a licensed clinical exercise physiologist, and other states have begun working on legislation to implement similar licensing requirements.
Exercise Physiologist Certifications
The American College of Sports Medicine (ACSM) offers three levels of certification in exercise physiology:
Certified Exercise Physiologist (EP-C)
Requirements include: Bachelor's degree, exam passage, CPR-training, and continuing education courses
Certified Clinical Exercise Physiologist (CEP)
Requirements include: Bachelor's degree, exam passage, CPR-training, 400 to 600 hours of clinical experience, and continuing education courses
Registered Clinical Exercise Physiologist (RCEP)
Requirements include: Master's degree (or higher), exam passage, CPR-training, 400 to 600 hours of clinical experience, and continuing education courses
Some common certifications may require additional, more specialized education. For example, to be certified as an athletic trainer, individuals must complete an accredited athletic training program and complete the Board of Certification exam.
Additionally, there are a number of common exercise physiologist certifications, as well as numerous specialized credentials to consider. Burning Glass indicates the following certifications are commonly requested in job postings:
Basic Cardiac Life Support Certification
Advanced Cardiac Life Support (ACLS) Certification
Basic Life Saving
Certified Clinical Exercise Physiologist
Cardiopulmonary Resuscitation (CPR)
Key Exercise Physiologist Skills
In order to be successful, exercise physiologists need to have both technical and patient-centered skills. Technical skills include knowledge of rehabilitation, cardiac life support, and exercise programs. In terms of working with patients, exercise physiologists need to have excellent communication, be detail oriented, and have good planning skills.
Exercise physiologists must also have patience and empathy, as they will be working with clients who are in varying stages of discomfort.
| Top Specialized Skills | Baseline Skills |
| --- | --- |
| Rehabilitation | Communication |
| Cardiac rehabilitation | Research |
| Electrocardiogram (EKG/ECG) | Teamwork/collaboration |
| Exercise programs | Planning |
| Patient care | Computer literacy |
Source: Burning Glass
---
Exercise Physiology Career Opportunities
Exercise physiologists gain most of their training through a combination of education and job training. According to the U.S. Bureau of Labor Statistics, 62% of exercise physiologists are self-employed. Exercise physiologists work in a number of different fields, including health care centers, sport management, physical therapy, and collegiate and professional sports teams.
Some of their typical job responsibilities include developing conditioning and exercise programs, demonstrating techniques and equipment use, treating medical emergencies, teaching fitness and providing health and wellness advice. Although the majority of exercise physiologists are self-employed, they can also work in a number of other settings, including:
Hospitals; state, local and private
Offices of physical therapists, occupational therapists, speech therapists, and audiologists
Physician offices
Government agencies
Source: U.S. Bureau of Labor Statistics
---
Do You Need a Master's to Become an Exercise Physiologist?
Although not all exercise physiologist roles require a physiology master's degree, completing advanced education can give you a competitive edge in the job market, and a master's is required for some certifications.
A master's in exercise physiology program can also help you expand or hone your skills in relevant areas, such as biomechanics, nutrition and exercise science. When looking at different programs, take some time to explore the curriculum and compare the coursework to your career goals — do you need to take specific courses to earn a certification? Do you have any gaps in your background that the program can help you address?
A few other factors to consider include:
Structure or flexibility: Some master's in physiology programs have a set structure in terms of coursework. Other programs offer some flexibility to tailor your curriculum to meet your specific career goals.
Certification potential: If becoming certified is important to you, look at each certification, and take those requirements into consideration when choosing your master's program.
Graduate internships and other experience: Master's programs that help students find internships can help you get a jumpstart in the field if you're planning to change careers. Programs such as the University of Florida's online M.S. in Applied Physiology and Kinesiology also offer an independent study option, which can be an excellent way to develop expertise in a specific area you're passionate about.
---
About the University of Florida Online M.S. in Applied Physiology and Kinesiology
University of Florida's online Master of Science in Applied Physiology and Kinesiology (APK) was named a top 10 online master's in exercise science by the OnlineU. UF's M.S. APK is also ranked #12 on OnlineU's annual ranking of "Most Affordable Master's in Exercise Science Online" in addition to being on the best-value lists from Princeton Review, Forbes, Kiplinger, and the Fiske Guide to Colleges.
The M.S. APK is offered 100% online, and can be completed while working full-time. Students can finish the degree in as little as one and a half years, even while attending school part-time. The program features two optional specializations: Athlete Development and Integrative Strengths and Conditioning Science. In addition, the APK program offers a broad selection of courses, including Biomechanics of Human Motion, Tactical Strength & Conditioning, and Ergogenics Aids.
---
Request Brochure
To learn more about the University of Florida's online Master of Science in Applied Physiology and Kinesiology and download a free brochure, fill out the fields below. You can also call (888) 581-1855 to speak to an academic coordinator.
*
All Fields are Required. Your Privacy is Protected.
The University of Florida respects your right to privacy. By submitting this form, you consent to receive emails and calls from a representative of the University of Florida, which may include the use of automated technology. Consent is needed to contact you, but is not a requirement to register or enroll.
Are you enrolling from outside the U.S.? Click Here.