What Can You Do With a Master's in Exercise Physiology?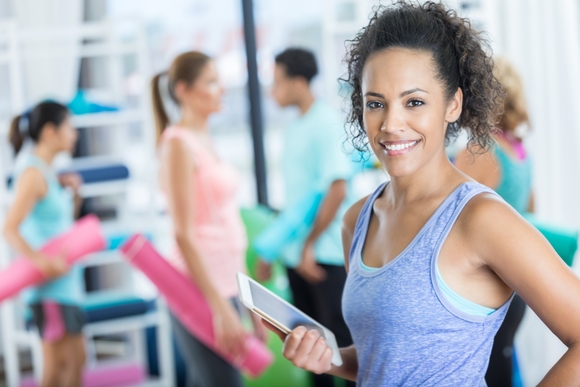 Improved physical fitness can lead to improved health. Exercise can help control weight, prevent heart disease, improve sleep and even benefit mental health, according to the Mayo Clinic. Inspiring others to reap these crucial health benefits is done best with a scientific background and a thorough understanding of the way the human body functions. Exercise physiology careers pave a way to help others improve their health.
Plus, business is booming for exercise physiologists. The projected job growth for these professionals is 13.2% over the next 10 years, according to Labor Insights by Burning Glass. The U.S. Bureau of Labor Statistics (BLS) also expects job growth for the field, predicting that the 19,800 exercise physiology careers that existed in 2019 in the U.S. will grow to 22,100 jobs by 2029, as healthcare providers focus on exercise and preventive care as a way of helping patients recover from diseases and improve their health.
When you earn a master's in exercise physiology, or a similar degree, such as a master's in applied physiology and kinesiology, you can hold a career as an exercise physiologist, coach, personal trainer, sports scout or other position that helps people pursue a healthier life, whether they're among the top tier of athletes, working their way off of the couch or spending time in rehabilitation.
Many jobs in exercise physiology require at least a bachelor's degree; and a master's in exercise physiology may increase a graduate's earning potential long-term. According to the job and labor database Burning Glass, a master's in exercise physiology salary is 11% higher than a bachelor's degree.
---
What Is a Master's in Exercise Physiology?
The field of exercise physiology studies how bodies respond to different types of movement and exercise, and how they adapt over time. It's a specialization within the field of kinesiology, which studies human movement. Students interested in pursuing their master's in exercise physiology typically want to learn how to help others improve their physical health while also training them to avoid movements that could cause or exacerbate injuries.
A master's in exercise physiology is just one of many names for academic programs that pursue similar paths. Other names for exercise physiology graduate programs and exercise physiology masters programs include:
master's in sports medicine
master's in exercise science and health promotion
master's in exercise science and wellness
master's in applied exercise science
master's in sports science and rehabilitation
master's in applied physiology and kinesiology
---
Why Seek a Master's in Exercise Physiology?
A master's in exercise physiology should emphasize an empirical approach. Academics in the field see the body as a fascinating machine, and thus, teach their students how to use evidence-based practices to fine-tune and fix it.
This program and those like it focus on how exercise physiology, biomechanics, motor control, athletic-injury prevention, and sport psychology can improve people's lives and maximize athletic performance. Students learn to use research-backed concepts to:
design and perform assessments
collect and interpret data
evaluate outcomes
create effective interventions and training plans
Students build valuable professional skills through interactive sessions with instructors and their peers. Coursework, like that at UF's online M.S. in Applied Physiology and Kinesiology, champion teamwork, ethical behavior, cultural sensitivity, professional conduct, and professional communication.
While not every master's in exercise physiology program offers courses built around specific certification, they may provide a foundation for many professional designations. Master's in exercise physiology graduates can go on to become:
ACSM Certified Exercise Physiologists®
ACSM Certified Group Exercise Instructors®
ACSM Certified Personal Trainers®
Certified Strength and Conditioning Specialists®
Certified Mental Performance Consultants®
The skills taught in this graduate degree program are applicable on and off the field with some graduates bound to play a significant role in the medical industry where they are needed in hospitals and doctors offices.
---
What Is the Salary Potential With a Master's in Exercise Physiology?
According to the BLS, the 2019 median pay for an exercise physiologist was $49,170 per year. Salaries rise with experience, education and expertise, and while some of these positions may be open to those with a bachelor's degree, those with a master's in exercise physiology may be more likely to reach the higher end of the salary range, which the BLS says starts at $34,990 and rises to $78,310.
---
What Are the Top-Paying Fields for a Master's in Exercise Physiology?
While 62% of exercise physiologists are self-employed, according to median annual wages published by BLS, physiologists are employed in a number of fields. And the Bureau reports that the government pays higher wages than hospitals and private businesses. The top-paying fields include:
Government: $72,440
Hospitals, state, local and private: $49,390
Offices of physicians: $48,200
Offices of physical, occupational and speech therapists and audiologists: $45,190
---
Careers for Master's in Exercise Physiology Graduates
People who have studied exercise physiology, kinesiology, and sports medicine will have their pick of diverse career options. Here are some jobs to consider pursuing after graduating from an exercise physiology master's program, along with the mean salaries and the salary ranges, according to PayScale.
Kinesiologist
A kinesiologist has a complex understanding of the way that humans move, how muscles interact and how exercise impacts those movements. They often work in sports medicine or physical therapy in a hospital or medical office setting. Kinesiologists work one-on-one with patients to design plans that ensure safe training and workout sessions.
Exercise Physiologist
Exercise physiologists have a deep understanding of the intricate ways that exercise impacts the body. They frequently work with people who have experienced injuries or certain health conditions, and devise ways to help those individuals safely regain strength and function. Exercise physiologists commonly work in gyms, wellness centers, hospitals, medical offices and in athletics.
Personal Trainer
A personal trainer works with clients one-on-one to help improve their fitness, health and physical capabilities, and can even provide advice on nutrition and diet. They may work with professional athletes or everyday people who want assistance and motivation to get in shape in a safe manner. Personal trainers can work in gyms, private clubs or independently to help clients achieve their personal goals.
Athletic Coach
Coaches work in school settings, such as high schools, colleges, and universities, to train and condition student athletes. Knowledge of the individual sport is key, whether it's soccer, football, cross country, baseball or another endeavor; it's also important that the coach knows the basics on how to safely help players improve their physical fitness. At the university level in particular, a master's degree can distinguish a coach from other candidates when applying for a position.
Sports Scout
Sports scouts help improve an athletic team's performance by finding and recruiting the best possible athletes to join that team, whether it's at the college, amateur or professional level. Sports scouts possess a deep knowledge of the sport at hand, and have often competed in that sport themselves. They also typically have a knack for identifying potential in young athletes.
Sport Scientist
These practitioners bring their scientific knowledge to the field in order to help athletes improve and better understand their performance. This often includes treatment and training programs that ensure athletes can perform to the best of their ability with the least risk of injury. Sport scientists have an advanced understanding of biomechanics, physiology, psychology, nutrition, and strength and conditioning.
---
What Is the First Step in Finding the Right Exercise Physiology Graduate Program?
Employers are looking for applicants who can step into a lab or training department and be ready to plan assessments, run evaluations, and create training plans. They need employees who are comfortable working with data and, for many positions, can effectively relay that information to non specialists.
Taking the first steps towards finding the right exercise physiology graduate program means finding a university that teaches you how to work with data, apply programs to real people, and interpret scientific studies right from the source.
A worthwhile exercise physiology or applied physiology and kinesiology program doesn't just teach students how to create a training program on paper–it teaches them how to put plans into practice with sport and exercise technologies like eye tracking, heart-rate monitors, motion capture, virtual reality integration, and apps and wearables.
These graduate degrees should also offer a substantial peer and alumni network as well as faculty with experience working in the field themselves. Students can prepare for exercise physiology jobs themselves by becoming immersed in subjects that fit their own individual interests, including coursework in:
Exercise physiology
Biomechanics
Athletic injury prevention
Sport management
Strength and conditioning
Motor control and learning
Sport and exercise psychology
Careers in exercise physiology have the potential to change lives and improve health and physical fitness. A master's program can equip students with the knowledge they need to improve their own professional outlook and help improve the well-being of others.
---
About the University of Florida Online M.S. in Applied Physiology and Kinesiology
University of Florida's online Master of Science in Applied Physiology and Kinesiology (APK) was named the #1 online master's in exercise science by the OnlineU. UF's M.S. APK is also ranked #12 on OnlineU's annual ranking of "Most Affordable Master's in Exercise Science Online" in addition to being on the best-value lists from Princeton Review, Forbes, Kiplinger, and the Fiske Guide to Colleges.
The M.S. APK is offered 100% online, and can be completed while working full-time. Students can finish the degree in as little as one and a half years, even while attending school part-time. The program features two optional specializations: Athlete Development and Integrative Strengths and Conditioning Science. In addition, the APK program offers a broad selection of courses, including Biomechanics of Human Motion, Tactical Strength & Conditioning, and Ergogenics Aids.
---
Request Brochure
To learn more about the University of Florida's online Master of Science in Applied Physiology and Kinesiology and download a free brochure, fill out the fields below. You can also call (888) 581-1855 to speak to an academic coordinator.
*
All Fields are Required. Your Privacy is Protected.
The University of Florida respects your right to privacy. By submitting this form, you consent to receive emails and calls from a representative of the University of Florida, which may include the use of automated technology. Consent is needed to contact you, but is not a requirement to register or enroll.
Are you enrolling from outside the U.S.? Click Here.